When looking for a solar attic fan, many customers may wonder how a delicate solar panel will hold up to bad weather. Solar Royal has the solution to this problem.
Designed with Bad Weather in Mind
The Solar Royal attic fan ventilation product was designed, developed and engineered for bad weather scenarios. Utilizing automotive grade components and we know our product offers the best quality and features available on the market. We offer a full 30Day product money back guarantee. Our partners have already told us "This is the best solar attic fan they had ever seen" and told us that "Our product sets a new standard which will not be easy to match".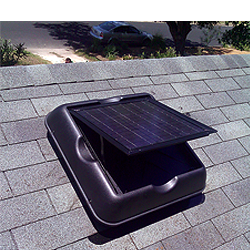 More Information on Our Solar Powered Home Ventilation Solution
For more information on our solar attic fans or other solar powered attic, fans check out our product information page.
Become a certified installer for Solar Royal roof-mounted solar powered attic fans.
Visit our warranty information page and get product registration details for our solar attic vent fans.
For more great solar powered attic ventilation products, visit our online store or contact us via Live Chat, our Support Desk Ticketing System or Phone during office hours.
Educate Yourself on the Myths of the Energy Industry
Check out these articles for more important facts every homeowner and industry professional should know.