Communication is key and customer service is our PRIORITY ONE.
Solar Royal not only sets a new standard in premium, full featured and cost effective solar attic fans ventilation, but also in lines of communication and exceptional customer service. Have questions? want to learn more about our product(s)? need assistance? Our staff of customer service professionals will guide you through it all. Regardless of whether your a consumer, dealer, roofer, contractor, energy auditor, green energy solutions provider, builder or distributor , our goal is to make sure you're happy. If your considering a competing product, those are our favorite calls.
SOLAR ROYAL, LLC.
3530 Bee Cave Rd, Ste. 104
Austin, Texas 78746
Toll Free: 800-317-4996
Tel: 512-547-3269
Fax: 512-630-0364
OFFICE HOURS:
Mon - Thur 9am - 5pm (CST)
Friday 9am - 4pm (CST)
Closed Saturday & Sunday
and major US Holidays
Customer Contact Goals:
Customer Service: Solar Royal, LLC - Customer Service mission statement is to always convey a passion for the customer and to consistently deliver the best product and service experience. Delivering customer satisfaction is about providing timely, responsive service with integrity, simplicity and a passion for excellence while meeting or exceeding the customer's expectations but also keeping intention that both parties WIN.
Solar Royal, LLC. Customer Service Team seeks to actively provide excellent service.
Our customer service team seeks to actively provide excellent service before-and-after the sale is made, thereby leading to create industry leading customer satisfaction and superior branding of our solar attic fan ventilation, solar ventilation, ventilation accessories, energy saving products and supplies.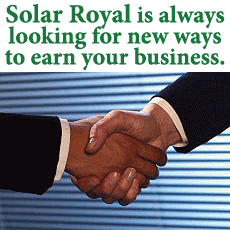 Customer Service Principles
Recognize the importance of all customers and the role every Solar Royal, LLC employee plays in influencing the customer's perceptions. While impacting these perceptions, be professional, reliable, credible, responsive, friendly and following other industry authoritative resources.
Communicate promptly and honestly and via the customers' choice of medium. Try to be brief and clear and also creating reasonable expectations for both parties.
Be a voice for the customer; when rules and policies don't make sense to our customer, challenge the way Solar Royal, LLC does business and seek opportunities for improvement as well as resolution oriented.
When a problem arises, which is inevitable, view the problem as an opportunity to improve.  Solving problems will enable us to raise the quality of our products and services.
Listen well, be responsive and demonstrate a sense of urgency. Understand that how something is said has a significant influence on how it is received. Under promise and over deliver.
Strive to make it easy for the customer to do business with Solar Royal, LLC to ensure that Solar Royal, LLC remains a preferred supplier.
BOTTOMELINE: The Solar Royal Team will work day and night to earn your business and continue to provide high-quality, premium solar attic fan ventilation solutions and product to continue to earn your business.