SolaVent™ 30Watt 'Reversible' Ventilation Gable Fan and Passive Vent Converter w/Thermostat
DON'T STAY PASSIVE – GET ACTIVE!
Developed, designed and engineered in the USA!
The SolarRoyal™ SolaVent™ turns any existing passive vents into solar powered active ventilation, whether a new install or retrofit to existing commercial and/or residential vents: dormer vents, box vents, ridge vents, commercial vents, apartment buildings, gables, turbines, pier & beam structures and mobile homes. Easy installation with our patent pending two-piece design as well as providing easy reversible air-flow. (download our SolaVent attic ventilation fan brochure). Please give us a call to speak with a representative about your specific solar attic ventilation needs. You can contact us via our LiveChat, Phone or our Support eTicketing System.


Benefits of SolaVent™ Ventilation Fan
No New Roof Penetrations Required.
Retrofit Any Existing Passive Vent.
Below Roof Deck Attachment.
Reversible Airflow(intake or exhaust).
Reduces moisture which reduces mold & mildew.
Increases air exchanges (per hour).
Reduces HVAC costs & cooling cycles.
No Modifications Required To Existing Vents.
Qualifies 26% Federal Credit program (unit & installation).
No Electric Wiring Required
Unaffected By Adverse Weather Conditions.
The fact is, no other solar gable ventilation fan on the market offers the innovations, features, ease-of-use, versatility in applications and value. Give Solar Royal a call today with your comparison questions so we can assist you in reviewing your options.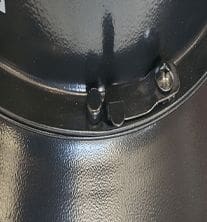 Drop & Lock 'Reversable'
The SolaVent ™ is the most versatile gable-crawl space solar ventilation fan on the market. Period!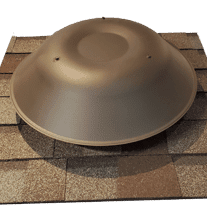 Passive -to- Active
Convert the simplest dormer, turtle, hawk and all other passive vents to active ventilation. Apartment complexes, crawl-space, peer-n-bean, mobile homes, etc.
"If I had to develop an ideal fan, the SolarRoyal SR1800 is exactly the fan I would spec. Brushless motor and the two-piece design are absolutely key. The only fan that does not leak. Every other suppliers' products leak without a skirt."
"Two-piece design separates it completely from all the others and decreases installation time considerably. In my opinion, the best-featured and constructed solar attic fan on the market." Never had a failure, and product support is great."
"Great product and customer support. Not had a single failure working with the SolarRoyal SR1800 for years. Quick access to products and working with Roy is a joy."
"Over 400 units and counting without one failure. Easy installation because of the two-piece design saves me a ton of time. Cost and product value with features beat any other solar fan we have installed. Customer service is top-notch and Vicky is always on it."
"Our contractors love the two-piece design, which cuts installation time in half. Brushless motor and other great features wrapped into a solid package. Working with Roy is great and he really knows the industry."
Don't Stay Passive
Convert any passive vent, dormer, ridge, turtle or static vent into an active solar ventilation moving four times the air changes.
Get Active!
The SolaVent is the most versatile 'Reversible' gable vent on the market but also converts any existing passive roof vents into solar powered active ventilation. The only purpose driven reversible fan with applications only limited by ones imagination.
Easy Installation
Our patent-pending two piece design makes the SolaVent™ series the easiest solar powered ventilation to install on the market.
Easy Installation
Something no one thinks about but use a competitors product and then have to service it, GOOD LUCK!  It will require a complete dismantle of the product and worse your flashing has to be compromised.
Monocrystaline Panel
The highest quality solar panel technology available. Not Multicrystaline nor Polycrystaline but Monocrystaline, – period.
Monocrystaline Panel
What this means is that SolarRoyal cares about providing our customers with the best and another reason to encourage our customers to compare (dare-to-compare) against other products.
Brushless DC Motor
High-quality brushless DC motor is at the heart of every Solar Royal ventilation solution. Stay away from brushed DC motor solutions.
Why Brushless DC Motor?
If your shopping for a solar ventilation solutions, be sure YOU ONLY CONSIDER UNITS with BRUSHLESS DC motors.  WHY? Because anything else, regardless of warranty offered will not last as long as you think. <
READ MORE ABOUT SOLAR FAN MOTORS
>
Integrated Adjustable Panel
Not considered an extra feature. Therefore, our adjustable angled bracket is included and integrated into the SR1800 series solution at no extra cost.
Integrated Adjustable Panel
Embedded within the low profile design, not just screwed on top. Embedded angle bracket and at no extra charge. Others are charging +$40 extra or just offering an unattractive solution.
Thermal Switch Included
Biometallic thermal weather switch that monitors the temperature and activates the unit when the temperature goes above ~ 75°F.
Thermal Switch Included
Something so simple should be included with all similar products but did you know that some competitors charge $20 to $39 for something that should be free.
Product Info
Motor:

Brushless 6-24VDC, proprietary, high-performance, direct current (DC) motor.

Fan Blade:

12-inch/5-blade 'TurboProp' styled customnylon/polymetric blade.

Performance:


30Watt: Up to 2250 sq.ft and ventilation capacity up to 1700 CFMs, also with sones ≈ .5 – 3.0.
Housing:
Unit:

System double-locks into upper housing and also has a heavy-duty solid one-piece aluminum (A6016) base for easier installation and durability.

Model Info: [30Watt] SolaVent™


Part Nr: SRSV-1830

Unit Dimensions:


Shipping weight: 21 Lbs
Box Size: 21″ x 21″ x 12″,
Furthermore, our SolaVent™ was designed for the end solution in mind.  The most versatile solar ventilation product on the market and has litterally limitless uses.  We invite you to contact us if you are looking for a solution.  The product will speak for itself.