35Watt & 65Watt Premium Solar
Attic Ventilation Fan w/ Thermostat
THE BEST SOLAR ATTIC FAN ON THE MARKET
Developed, designed and engineered in the USA!
The Solar Royal solar attic ventilation fan was designed to address all the missing features and limitations within the current marketplace offerings. Whether you're trying to ventilate your attic, shed, multi-family dwelling, garage, barn, or commercial space, You have found the smartest solution for your solar attic ventilation needs (download our solar attic ventilation fan brochure). Please give us a call to speak with a representative about your specific solar attic ventilation needs. You can contact us via our LiveChat, Phone or our Support eTicketing System.
Benefits of a Quality Solar Attic Ventilation Fan
Converts passive ventilation to active.
Includes thermostat (activates over 80°F) &  FireFuse.
Upgradeable to

SolaSensorPRO

– fully adjustable [Temperature (60-130 °F)/Humidity (20-90 %rh))
Extends the life of your roof and AC.
Reduces moisture which reduces mold & mildew.
Increases air exchanges (per hour).
Reduces HVAC costs & cooling cycles.
Lifetime warranty available.
Qualifies 30% Federal Credit program (unit & installation)
Plastics -vs- Metal Housing (more info)
Extreme Weather Ready: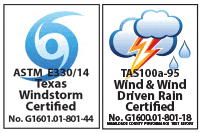 No other solar attic ventilation fan on the market offers the innovations, features, ease-of-use, versatility in applications and value. This also includes certifications; no other solar attic fan offers both ASTM E330/14 & TAS100a-95 certifications. Give Solar Royal a call today with your comparison questions so we can assist you in reviewing your options.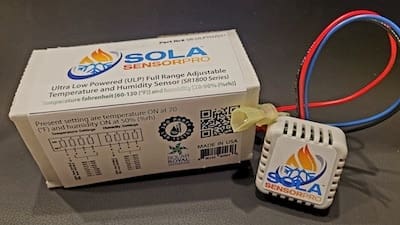 Fully Adjustable Temperature and Humidity Sensor.
The SolaSensePRO™ is the only fully adjustable temperature (60-130 °F) & humidity (20-90 %rh) sensor on the market designed for the ultra-lower power DC (5V-36V) applications that can be set via onboard pin-switch to accommodate the environmental application the solar ventilation fan is installed for. The patent-pending SolaSensePRO™ is designed as an available accessory for the latest Solar Royal's solar attic fans (SR1800). [For more Info Click-Here]
"If I had to develop an ideal fan, the SolarRoyal SR1800 is exactly the fan I would spec. Brushless motor and the two-piece design are absolutely key. The only fan that does not leak. Every other suppliers' products leak without a skirt."
"Two-piece design separates it completely from all the others and decreases installation time considerably. In my opinion, the best-featured and constructed solar attic fan on the market." Never had a failure, and product support is great."
"Great product and customer support. Not had a single failure working with the SolarRoyal SR1800 for years. Quick access to products and working with Roy is a joy."
"Over 400 units and counting without one failure. Easy installation because of the two-piece design saves me a ton of time. Cost and product value with features beat any other solar fan we have installed. Customer service is top-notch and Vicky is always on it."
"Our contractors love the two-piece design, which cuts installation time in half. Brushless motor and other great features wrapped into a solid package. Working with Roy is great and he really knows the industry."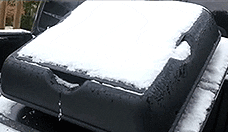 WORKS IN EXTREME CONDITIONS, EVEN COVERED WITH SNOW!
The Solar Royal (SR1800 Series) is robust, durable and still operates under minimal light conditions. Having received 'kudos' from numerous customers, builders and contractors stating they have never worked with a solar ventilation product that was able to operate continuously (longer) during such low light levels as the Solar Royal ventilation series. All also loving the ease of installation and full feature set. <see video>
Monocrystaline Panel
The highest quality solar panel technology available. Not Multicrystaline nor Polycrystaline but Monocrystaline, – period.
Monocrystaline Panel
What this means is that SolarRoyal cares about providing our customers with the best and another reason to encourage our customers to compare (dare-to-compare) against other products.
Brushless DC Motor
High-quality brushless DC motor is at the heart of every Solar Royal ventilation solution. Stay away from brushed DC motor solutions.
Why Brushless DC Motor?
If your shopping for a solar ventilation solutions, be sure YOU ONLY CONSIDER UNITS with BRUSHLESS DC motors.  WHY? Because anything else, regardless of warranty offered will not last as long as you think. <
READ MORE ABOUT SOLAR FAN MOTORS
>
Integrated Adjustable Panel
Not considered an extra feature. Therefore, our adjustable angled bracket is included and integrated into the SR1800 series solution at no extra cost.
Integrated Adjustable Panel
Embedded within the low profile design, not just screwed on top. Embedded angle bracket and at no extra charge. Others are charging +$40 extra or just offering an unattractive solution.
Easy Installation
Our patent-pending two piece design makes the SR1800 series the easiest solar powered ventilation to install on the market. This also makes it the easiest to maintain and access.
Easy Installation
Something no one thinks about but use a competitors product and then have to service it, GOOD LUCK!  It will require a complete dismantle of the product and worse your flashing has to be compromised.
Thermal Switch Included
Biometallic thermal weather switch that monitors the temperature and activates the unit when the temperature goes above ~ 75°F.
Thermal Switch Included
Something so simple should be included with all similar products but did you know that some competitors charge $20 to $39 for something that should be free.
Elegant Low Profile
Our Beautiful design and form. We truly care about how our products looks on your home or where-ever solar ventilation is needed.
Elegant Low Profile
REALLY! Look at some of the others: a round dome with a square solar panel screwed on top.  Then there are others that are so big, in our opinion, that they look like a restaurant grease-trap. Do you really want that on top of your home?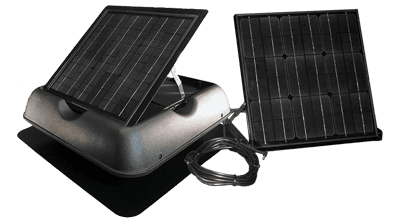 65WATT SOLAR ATTIC VENTILATION FAN – UNMATCHED VERSATILITY!
The 65Watt (SRSF-65W10) solar attic ventilation fan offers fantastic performance and is incredibly versatile. This product utilizes our industry-leading, 35Watt, premium brushless ventilation solution as well as an additional 'plug-n-go' 30Watt remote solar panel. This powerful combination brings together an extremely powerful solar attic ventilation solutions. Whether you're utilizing both panels side-by-side or placing them apart to optimize the greatest duration of sun exposure, Solar Royal's 65 Watt solution will not disappoint, ventilating up-to 3555 sq.ft and up-to 2280 CFMs.
Product Info
Motor:

Brushless 6-24VDC, proprietary, high-performance, direct current (DC) motor.

Fan Blade:

12-inch/5-blade 'TurboProp' styled customnylon/polymetric blade.

Performance:


35 Watt: Up to2955 sq.ft and ventilation capacity up to 1825 CFMs, also with sones ≈ .5 – 3.0.
65 Watt: Up to 3555 sq.ft and ventilation capacity up to 2280 CFMs, also with sones ≈ .5 – 3.5

Housing:


Upper:

 automotive grade ABS, high impact composite material, and UV stabilizer with embedded fire retardant resin in addition to a wildlife guard.


Base:

 System double-locks into upper housing and also has a heavy-duty solid one-piece aluminum (A6016) base for easier installation.

Model Info: [35Watt]

Part Nr.:SRSF-35W10,
UPC: 638142929530, [65Watt] Part Nr.:SRSF-65W10

Unit Dimensions:

24″ x 24″ x 7″
Weight: 26 Lbs
Box Size: 28″ x 28″ x 11″, Box Weight: 30 Lbs
Furthermore, our Solar Royal solar attic ventilation fan is first in a new line of products engineered to perform in extreme weather. It offers patent-pending innovation not previously available in the market. Furthermore, the product line is designed for use in virtually any residential, commercial and utility application. Solar Royal also has an incredible product road-map planned. In addition to risers and extenders, we offer curb bases, R9 panel bases, and metal roof bases. Also, watch our site for all the latest products in development.
Proper ventilation is a direct result of proper installation
Sizing Balance Orientation
Attic Size
CFM Required
Net Air
Intake (sq.in.)
Ave.Pitch
~6/8
1800 sq.ft.
1260
604
1 Fan
2100 sq.ft
1476
705
1 Fans
3500 sq.ft
2450
1176
2 Fans
Proper sizing and installation depend on a variety of factors including attic area, roof pitch, roof color and roof type which all factor into your specific ventilation requirements per the Home Ventilation Institute (HVI).