Solar Attic Ventilation insect barrier
Bees and Wasps can be nasty and unfortunate to deal with in any case. Solar Attic Ventilation is created to move air from your attic and crawl spaces. The embedded screen is not designed to be a full insect barrier.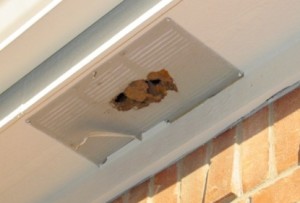 Just like your other vents; ridge vents, gables, soffits and other manufacturers product – these are all areas were Bees and Wasps can enter. Ventilation is designed so that as much air can pass through as possible. If someone tells you that bees, wasps and insects cannot pass through there ventilation system then ask yourself, how well they really circulate the air. The smaller the screen wholes are the less air can flow, just common sense.
If you are really concerned, the key is keeping an eye out for them and taking care of the issue before it's a huge problem. Do not expect a solar attic ventilation from any vendor, including Solar Royal to also act as an insect barrier. It is unlikely that bees and wasps will nest in the fan because of the constant air movement and blade turning, but we recommend you inspect the vent yearly.