The solar powered ventilation products are easy to install and anyone handy with tools should feel comfortable doing an installation. BUT – we (Solar Royal, LLC.) recommend hiring an insured and/or bonded local professional to install your fan(s).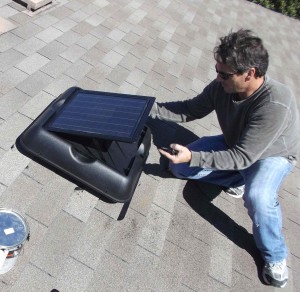 Solar attic fan installation instructions
The instructions for installing a SolarRoyal SR1800 solar attic ventilation fan can be found under the Resources tab on the top bar of the website. Click on Apps, Documentation, & Manuals. There you will find a list of manuals and brochures about all of our products. In that list you will find links to our SR1800 Series Installation Manual – Detailed (English – 2018) and SR1800 Series Installation Manual – Quick Start (English – 2018). You will also find both of these guides in Spanish:  Manual de Instalación – Detallado (Español) and Manual de Instalación – Resumido (Español). There is also an installation guide for our Solar Gable Fan: SRGF-2504 Solar Gable Fan Installation Manual – Quick Start (English). If your installer is not familiar with our products, provide him with these links. All the information they need is contained in these manuals.
More Information on Our Solar Attic Ventilation Solution
For more information on our solar attic fans or other solar powered attic fans check out our product information page.
You might also be eligible for solar tax incentives. View our solar tax credit and rebate info.
Become a certified installer for Solar Royal roof-mounted solar powered attic fans.
Visit our warranty information page and get product registration details for our solar attic vent fans.
For more great solar powered attic ventilation products, visit our online store or contact us via Live Chat, our Support Desk Ticketing System or Phone during office hours.