NOTE: SolarRoyal LLC recommends utilizing an insured, bonded and licensed electrician for PowerShield installation.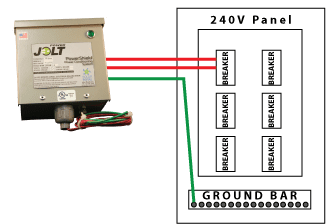 PowerShield installation is quite simple and only requires a few easy steps:
Prior to opening the breaker panel MAKE CERTAIN THE MAIN BREAKER IS IN THE OFF POSITION.
Secure the two red leads (wires) of the unit to the two (2x) 20amp breakers (one on each terminal and preferably at the bottom of each leg). Secure the green wire from the PowerShield unit to the ground bar in the panel. Leaving the breaker in the OFF position until power is restored to the panel.
Reinstall the panel cover securely
Turn power (main breaker) back on. Flip the breaker to the ON and check that the indicator light is ON. The faint green will indicate that the unit is on and installation is complete.
If the light is NOT ON, turn off power and check the make certain good contacts are made with the two red wires and the breaker.


 IF THE LIGHT DOES NOT COME ON AFTER INSTALLATION, MOST LIKELY YOU DO NOT HAVE 220/240 VOLTS GOING TO THE UNIT'S BREAKER.
For more installation manuals, check out our documentation and manuals page.