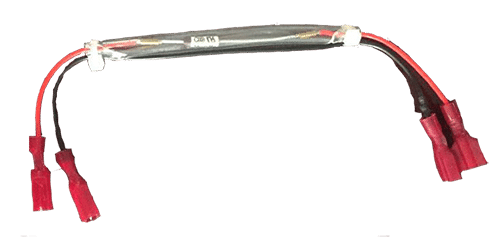 Fires are something every property and homeowner hopes they never have to deal with. However, it is always a good idea to have fail safes in place to protect your family, home and property in case of a fire emergency. A key component of fire is oxygen. If your attic would catch fire, you wouldn't want your solar attic fan to feed the flames during the day and help the fire grow. That is why SolarRoyal has designed a Fire Safety 'FireFuse' Cutoff Switch! This switch features a fusable link that will melt at 225 degrees Fahrenheit (107 degrees Celsius). As soon as the link melts, the fan shuts down, cutting off the supply of fresh air to the flames and limiting the oxygen supply. This will help buy valuable time for property owners to evacuate the building and for emergency responders to contain the fire.
The Fire Safety 'FireFuse' Cutoff Switch is super easy to install!
Best of all, no extra tools or special expertise is required and it can be done in three simple steps:
1. Unplug the thermostat from the rest of the unit by using the quick-connect plugs.
2. Plug in the FireFuse inline.
3. Plug the thermostat back into the FireFuse using the quick-connect plugs.
(See full installation instructions provided with your unit.)
It takes less than a minute to provide the peace of mind knowing that your home or business is protected by a cutoff switch. A cutoff switch is vital to the health and safety of any building in both residential and commercial applications.
The FireFuse is included in every SolarRoyal SR1800 Series shipped since Q2/2018. Some manufacturers charge ~$30 extra for a fire safety cutoff switch. But, here at Solar Royal, safety is always our first priority which is why we are making sure all of our new units are being installed with this important addition.
Read more solar industry news.