The SR1800 Solar Attic Fan features a 'Plug–n-Play' solution for expanding wattage capacity by simply being able to plug in an additional solar panel.
Seamless Wattage Expansion or Remote Panel Additions to Solar Ventilation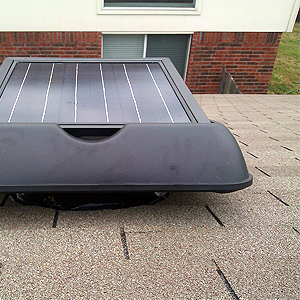 The SR1800 once again sets itself apart from the competition by offering this unique solution, which allows adding more power to your solar attic fan by incorporating an expansion port. This is in contrast to other competing products, where adding additional wattage (remote solar panels) requires a complete removal or almost complete disassembly of the unit. Also a large percentage of competitors do not even allow or offer wattage expansion with their products, so your stuck with what you originally purchased. With the Solar Royal (SR1800) it's just a 'Plug–n-Play' solution.
More Information on Our Solar Powered Home Ventilation Solution
For more information on our solar attic fans or other solar powered attic, fans check out our product information page.
You might also be eligible for solar tax incentives. View our solar tax credit and rebate info.
Become a certified installer for Solar Royal roof-mounted solar powered attic fans.
Visit our warranty information page and get product registration details for our solar attic vent fans.
For more great solar powered attic ventilation products, visit our online store or contact us via Live Chat, our Support Desk Ticketing System or Phone during office hours.