Our SolarRoyal SR1800 Series solar attic ventilation fans have been specifically designed to be simple to install and extremely user-friendly. However, we understand that there are many types of roofs, some of which provide unique installation challenges. Our SolarRoyal ventilation experts have designed a range of  SR1800 Series accessories for SolarRoyal solar attic fans to make installation easy and pain-free on even the most challenging roofs.
SolarRoyal 3″ Aluminum Curb Base Mount SR1800 Series Accessories
When installing one of our SR1800 solar ventilation fans on a flat, metal, tile, or sod roof, you may need a curb base mount. That is why we designed a curb mount with a solid aluminum construction that interlocks with the SR1800 Series fans. This mount allows easy installation of our fans on roofs that may not be compatible with a solar attic fan without this type of modification.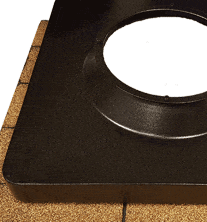 SolarRoyal 30Watt Remote Solar Panel (MonoCrystaline) w/Angle Bracket and Mount
Sometimes we get questions from customers about whether or not there is a size difference between our 30watt solar attic fan and our 60watt solar attic fan. If you've been asking the same question, here's your answer. We sell a 30Watt Remote Solar Panel that is plug-n-go compatible with our 30Watt SR1800 Solar Attic Ventilation Fans. This panel extends the performance of your 30Watt fan, transforming it into a 60watt fan. If you already have a 30watt fan and want to upgrade to a 60watt fan, there is no need to buy a whole new fan. Purchase our 30watt remote solar panel. Every 30watt fan we sell has a port to which one of the remote solar panels can connect. Put the panel side-by-side with your SR1800 Attic Fan or place them apart to optimize sun exposure.
Product Specifications
Monocrystaline panel (18V, 1.39 amp)

seven-stage angle-lock bracket included

25′ of UV/Weatherized cable

high-grade Aluminum and stainless steel fasteners

Designed to perform in extreme weather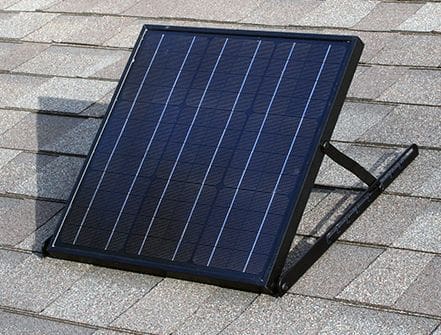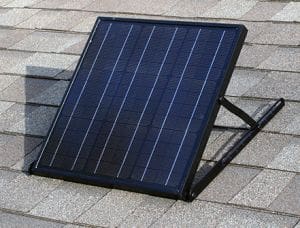 SolarRoyal 6″ Riser for the Solar Attic Ventilation Fan SR1800 Series Accessories
When installing a solar attic fan on tile roofs, sod roofs, snowy areas, and other industrial applications, extra clearance may be needed to ensure the fan's proper fit. That is why we designed a 6″ riser for our SR1800 Series fans. This modular adapter adds six inches between the fan base and hood.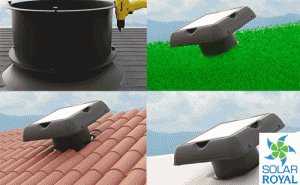 Have more questions about the SR1800 series solar attic ventilation fans or SR1800 ventilation accessories? Contact us via LiveChat, SupportDesk Ticketing System or Phone during office hours.