Do you have technical questions about our solar attic fans? Whether you are a current or prospective customer, here are some of the most frequently asked technical questions about our SR1800 fan.
How will an SR1800 solar attic fan stand up to a hurricane or other extreme weather?
Our solar attic fans are the most durable on the market. Third-party testing ensures they meet the requirements for Texas Windstorm Certification and Florida Wind and Wind-Driven Rain Certification. This means that our customers can rest assured that their investment is safe from whatever mother nature throws at them. You can download and view our AST E330/14 Texas Windstorm Certification documentation and TAS100a-95 Wind and Wind-Driven Rain test report for more information.
Are SR1800 fans only used for ventilating attics, or can they be used in other applications as well?
Our SR1800 solar attic ventilation fans ventilate all kinds of spaces. SolarRoyal customers have installed them in countless applications, including attics, garages, crawlspaces, sheds, warehouses, barns, and any other space you can think of that could benefit from proper ventilation.
Can I install an SR1800 fan in my house where the fan is directly in the living space?
Of course! Plenty of our customers install SR1800 fans in homes that have no attic. This type of installation is prevalent in hotter, more tropical climates such as Hawaii. The SR1800 fan is so quiet you won't even know it is there.
Do SR1800 fans come with a thermostat?
Yes. Every SR1800 fan comes with a thermostat. The thermostat comes pre-set to allow the fan to come on at ~79 degrees and turn off when the temperature dips below ~75 degrees. These settings are optimal for cool, dry climates. We usually recommend thermostats for dry climate areas. If you live in a warmer climate with much higher humidity, your installer may recommend disabling the thermostat so that the fan runs 24/7.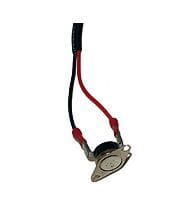 Can I change the temperature settings on the SR1800 thermostat?
No. The SolarRoyal team has done extensive research into the optimal temperature settings for the thermostats on our fans. Our experts have determined the optimal temperature settings to ensure the peak performance of every fan. These settings come preprogrammed into every thermostat. If you wish to bypass these settings, you can ask your installer to bypass the thermostat so that your fan will remain operational at all times.
Have more questions about our SR1800 solar attic fans? Check out these additional articles for more info:
Frequently Asked Questions About Solar Attic Fans
Solar Tax Credits: Frequently Asked Questions