Attic Insulation Removal Bags
[CONTRACTOR – GRADE]
75gsm/2.6oz  designed by PowerJolt USA!
The PowerJolt energy efficiency products are designed and manufactured under the strict guidelines for the highest-quality and durability in addition to being brought to you at an incredible value. Due to extensive research and development, PowerJolt bags come guaranteed as contractor grade. You don't want to spend your money on cheaply made knock-offs, so choose PowerJolt attic insulation removal bags instead.
Our insulation removal bags are made out of 100% polypropylene fabric to allow the bag to breath when debris and insulation is disposed into the expandable bag when vacuuming out insulation from an attic. These bags are different from other bags on the market because we use a stronger polypropylene fabric and a more heavy-duty stitching (5 seam thread style and 10 stitches per inch).
Please give us a call to speak with a representative about your specific needs or to help compare another product you are considering, you can contact us via our LiveChat, Phone or our Support eTicketing System.  Dare-to-Compare and we can save our partners tons of money. Don't buy bags that you need three to four people to move or are oversized, to many things can go wrong and creates an unnecessary liability plus a huge mess. You deserve only the best!
Furthermore, these bags will fit on Krendl, Versa-Vac, Meyer or any other vacuum brands that have an output diameter of less than 12 inches.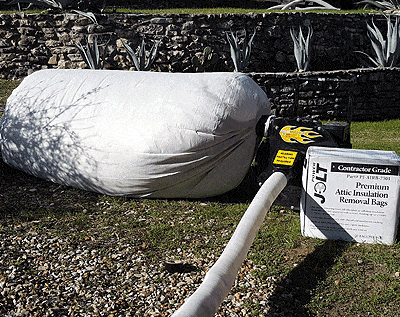 Contractor Grade due to heavy-duty thread and reinforced stitching, up-to 50% stronger.

Holds approximately 75 cubic feet of material (4′ x 6′).

Capable of ~350 lbs

Made of 100% Polypropylene and 75gsm (2.6oz) thickness.

Easily close and transport.

Stackable Vacuum Bags.

Each bag comes individually wrapped and labeled
(20 bags to a case).
The Multipurpose Removal Bags:
The PowerJolt Premium Bags are incredibly versatile regardless if you are using them for disposing of attic material, attic debris, rodent debris or other debris. As a result, our removal bags are perfect for making every job that much easier without purchasing multiple types of products.
Incredible Value
Getting the job done with quality products is the key to a successful execution.
Smart Money
BOTTOMLINE:  Don't spend more then you have to, because eventually they will get to the dump anyway.
Energy Wise
Having the attic updated with the latest insulation technologies is key to smart money.
Energy Wise
BOTTOMLINE: Regardless if your removing old attic insulation or other debris, PowerJolt has the bags you need.
AS LOW AS: $7.50
Save a ton on buying in bulk. Call us for custom quotes on bulk and/or contract pricing.
SAVING MORE MEANS EARNING MORE!
BOTTOMLINE: Please contact the SolarRoyal team to get the best pricing in volume purchasing.