Solar Royal, LLC unveils the strongest and most versatile 50-Watt premium solar attic fan (solar-powered ventilation) available. Retailing at $529.
AUSTIN, TEXAS (June 9, 2015) Solar Royal, LLC announces the launch of its first major update to its flagship product; the 50-watt premium solar-powered ventilation fan in the SR1800 Series. Solar Royal is a manufacturer, designer and developer of premium solar attic ventilation solutions, offering the highest quality, feature-packed and most cost effective 50-Watt solar attic fan on the market.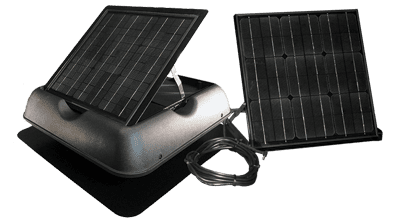 50-WATTS OF POWERFUL SOLAR VENTILATION
The 50Watt (SR50W-03) solar ventilation solution offers fantastic performance and is incredibly versatile. This product utilizes our standard industry-leading 25-Watt solar attic fan with an additional 25-Watt remote solar panel. Bringing together an extremely powerful solar-powered ventilation solution. Whether you're utilizing the additional panel next to the main unit or placing it elsewhere to optimize the greatest duration of sun exposure, Solar Royal's 50-Watt solution will not disappoint, ventilating up-to 2500 sq.ft and up-to 1950 CFMs.
The Solar Royal SR1800 Series is the best solar ventilation product available today. No other product offers all the features at such a value. Offering a recessable, monocrystalline solar panel, high quality brushless motor, panels with a 7-stage multi-lock function for variable angle positions, airfoil noise insulation, secure double-locking feature, continuous optimized airflow cowling for superior aerodynamics, an elegant low-profile design, heavy duty construction, thermal switch included, lifetime warranty option and more.
The SR1800 Series, with its patent-pending double-locking design, requires no tools to attach the unit to the base flashing. The SR1800 Series is truly the easiest solar ventilation product to install and maintain.
"Our company is committed to making energy efficiency products more affordable while providing a product that offers the smartest solution for ventilating any attic or roof spaces for the best price." said Roy Stocker, President of Solar Royal, LLC.
Media Files: website homepage, product page, product image, company logo, release (pdf), store link.