Communication is key and customer service is also our FIRST PRIORITY.
Take a Glance on how the most trusted solar ventilation fan provider in Texas started
Solar Royal, LLC, began like many other companies – a small idea and a big vision! While remodeling his own home, our founder, Roy Stocker, was evaluating green energy products for the project. After researching ways to reduce his home's utility bill, Roy realized that using solar attic fans for better ventilation was a great solution. But the options available were expensive and lacked key elements within one product. So, Roy went to his resources and researched every aspect of producing premium solar attic fans, solar exhaust fans, and other solar ventilation fans, knowing that he could bring better attic fans to the market and make them more economically available to the general public. Get your own solar ventilation fan now, we deliver throughout  Austin, Dallas, San Antonio, Houston, Gatesville, and other nearby cities in Texas (TX) and other states in the US.
Since 2010, Solar Royal LLC has been one of the best solar exhaust fans, solar ventilation fans, and attic fans providers that residents have trusted. Roy Stocker provides the best solar exhaust fan Austin, Dallas, San Antonio, Houston, Gatesville, and other nearby cities in Texas (TX) and other states in the US. Solar Royal LLC has a vast collection and selection of attic fans that will suit your property. We have developed top-of-the-line solar ventilation fans that are poised to suit your property's need for proper ventilation. Solar Royal's SR1800 solar attic fans have patent-pending features and functions not available from any other supplier. Our solar exhaust fan combines all the best features that are in the market but is at around 40% less cost. Our attic fans are Texas Windstorm certified and tested (ASTM-E330) and Florida (Miami-Dade County Performance Test) Certified and Tested. If you want to know more about our solar fans, give us a call and we would be more than happy to show you a fan that best suits your property. Our team will make sure you get only the best solar ventilation fans. 
WHAT DO WE DO? Our aim is to provide all Texans great value solar attic fans and solar exhaust fans for their homes, commercial spaces, barns, utility houses, and other properties in need of better ventilation. Our promise to our clients is to readily answer your questions about your attic fan needs. Do not hesitate to contact us and ask us more about our solar-powered ventilation. If you are from Austin, Dallas, San Antonio, Houston, Gatesville, and other nearby cities in Texas (TX) and other states in the US, we are ready to service your needs!
"If I had to develop an ideal fan, the SolarRoyal SR1800 is exactly the fan I would spec. Brushless motor and the two-piece design are absolutely key. The only fan that does not leak. Every other suppliers' products leak without a skirt."
"Two-piece design separates it completely from all the others and decreases installation time considerably. In my opinion, the best-featured and constructed solar attic fan on the market." Never had a failure, and product support is great."
"Great product and customer support. Not had a single failure working with the SolarRoyal SR1800 for years. Quick access to products and working with Roy is a joy."
"Over 400 units and counting without one failure. Easy installation because of the two-piece design saves me a ton of time. Cost and product value with features beat any other solar fan we have installed. Customer service is top-notch and Vicky is always on it."
"Our contractors love the two-piece design, which cuts installation time in half. Brushless motor and other great features wrapped into a solid package. Working with Roy is great and he really knows the industry."
SOLAR ROYAL, LLC.
3530 Bee Cave Rd, Ste. 104
Austin, Texas 78746
Toll Free: 800-317-4996
Tel: 512-547-3269
Email:
[email protected]
OFFICE HOURS:
Mon - Thur 9am - 5pm (CST)
Friday 9am - 4pm (CST)
Closed Saturday & Sunday
and major US Holidays
Customer Contact Goals:
Customer Service: Solar Royal, LLC - Customer Service mission statement is to always convey a passion for the customer and to also consistently deliver the best product and service experience. Delivering customer satisfaction is about providing timely, responsive service with integrity, simplicity and a passion for excellence while meeting or exceeding the customer's expectations but also keeping intention that both parties WIN.
Solar Royal, LLC. Customer Service Team seeks to actively provide excellent service.
Our customer service team seeks to actively provide excellent service before-and-after the sale is made, thereby leading to create industry leading customer satisfaction and superior branding of our solar attic fan ventilation, solar ventilation, ventilation accessories, energy saving products and supplies.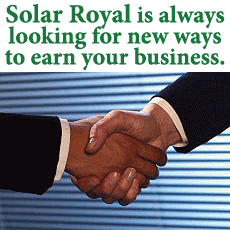 Customer Service Principles
Recognize the importance of all customers in addition to the role every Solar Royal, LLC employee plays in influencing the consumer's perceptions. All the while, we impact those perceptions through being professional, reliable, credible, responsive, friendly, and following other industry authoritative resources.
Furthermore, we communicate promptly and honestly via the customers' choice of contact medium. Try to be brief and clear while also creating reasonable expectations for both parties.
Also, be a voice for the customer; when rules and policies don't make sense to our customer, challenge the way Solar Royal, LLC does business and seek opportunities for improvement as well as consumer-oriented resolution.
When a problem inevitably arises, view the problem as an opportunity to improve.  Consequently, solving problems will enable us to raise the quality of our products and services.
Most of all, listen well, be responsive and demonstrate a sense of urgency. Understand that how something is said has a significant influence on how it is received. However, under-promise and so you can over-deliver.
Strive to make it easy for the customer to do business with Solar Royal, LLC while ensuring that Solar Royal, LLC remains a preferred supplier.
BOTTOMELINE: The Solar Royal Team will work day and night to earn your business and continue to provide high-quality, premium solar attic fan ventilation solutions and product to continue to earn your business.